With Marypop, no mandatory subscription and no booking fees are required: you choose your babysitting formula quite freely.
We propose 2 offers:
Marypop start: the "A la carte" offer
Marypop premium: the "all-inclusive" booking package
With Marypop, it's simple: you choose your babysitting formula, without constraints and according to your use. We know that finding a babysitter is complex and that it is difficult to give your confidence to babysit your children. That's why we take care of selecting and checking the profiles to make it easier for you.
1. Your babysitting formula, perfect for occasional babysittings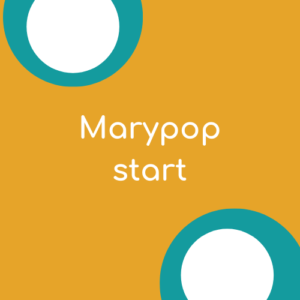 The "A la carte" formula includes:
100% verified babysitter profiles
Unlimited and free consultation of the babysitters' profiles
The babysitters are committed to respecting the Marypop Charter
In case of cancellation: guaranteed refund of babysitting costs up to 12 hours before the appointment.
Its tariff is as follows:
Application fees: none
Subscription amount: none
Babysitting costs: babysitter's fee + 2€/hour booking fee
Book your babysitting now with Marypop start!
2. Your "all included" package, designed for regular babysittings

The Marypop premium package includes:
All the Marypop start formula
                              +
Booking fees included and unlimited
Assistance with administrative procedures (contract, administration declaration, tax declaration)
Fully refunded cancellations
Personalised recommendations of babysitters
Its tariff is as follows:
File fees: none
Amount of the subscription : 59,90 € for 6 month of service if you pay at once OR 11,90€/month – Commitment: 6 months
Babysitting fees: rate of the baby-sitter without any booking fee (instead of 2€/hour)
Marypop premium is profitable from 6 hours of babysitting per month. Think about it!
Choose the Marypop premium package in your Dashboard here, section 'My packages'.